SEO for Blogging
The post slug is the name of a post used to create a permalink for each post. WordPress automatically generates post slugs from a post's title, but you can also edit your post slugs.
Changing individual post URL
You can easily change URL Slugs for Blog Posts, Pages, or Custom Post Types.
Go to a Page or Blog Post where you want to change the Slug, look just below the Title field and you will see the URL with an Edit button next to it.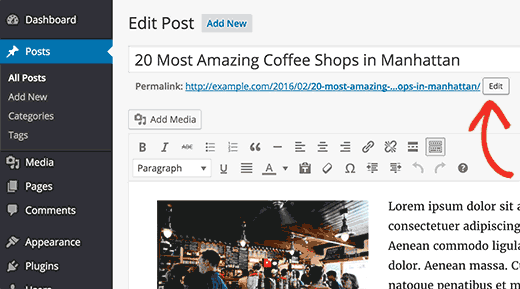 Clicking on the Edit button will allow you to change the page/post slug. You can use alpha-numeric characters and dashes in the slugs.
For a more SEO friendly URL, make sure you choose a slug that contains keywords people would normally use to search for content.
How to use Yoast SEO in Blog Posts
Open any page or blog post that you have on your site and scroll to the bottom of it. That's where you'll find your Yoast SEO toolbox, which is fairly easy to edit and guides you through the process of improving your posts and making them SEO friendly.
Here you can edit and preview your snippet and also follow other recommendations based on SEO Analysis by Yoast.

How to use Rankmath in Blog Posts
To optimize your content and posts, you first need to access the Meta Box which is located on the same page where you write your content - in the post editing screen. All you have to do is scroll below the text area, and you'll see it.
Here you can edit your snippet, social media images, rich snippets, and some other useful SEO settings. Check this
guide
and learn how to adjust your settings.
Social Sharing Image on Blog Posts
Here is how to set a featured image for Facebook using Yoast plugin:
When you go to a post, page or gallery, if you scroll down you will see the Yoast SEO section.
Click on Social tab
Update your Facebook title, description and upload an image and save the post
Here is a more comprehensive guide on this topic.