How to setup MailChimp
If you want to start building an email marketing list with Flothemes you'll want to sign up for Mailchimp. Mailchimp allows you to collect emails on your website, you can have users sign up for news, to get specific offers, or share information with them. This information is useful for you as you can then start to nurture any potential clients who sign up from your site.
Some of our themes offer built-in newsletter options, either via a Newsletter block, or within the footer area. Adding Mailchimp sign ups here is relatively simple. Just follow the steps described below.
Step 1 – Sign up for Mailchimp
If you haven't heard of Mailchimp, or you don't have an email marketing system, now is the time to sign up for one. Mailchimp is a great option for free email marketing lists of up to 2,000 users and you can then send up to 12,000 emails a month with the free plans.
Step 2 – Create a list
Now that you have signed up for Mailchimp, you will need a list. You can create multiple email lists depending on what you are offering clients, free resources, or just a simple newsletter. Most of you will just have one marketing list for your newsletter and will share all information with your clients.
Go to the lists section, click on "create list" in the right hand corner, and then name the list, make sure it's relevant. If it's for newsletters, just call it "Website Name Newsletter" (replace website name with your own website name).

Step 3 – Sign up forms
Now that you have created a list, you'll need a sign up form. The sign up form will be used with our theme to pass the clients emails to your email list.
Again, navigate to the lists section, then this time, select the list that you want to embed on the site.

Now go to the "Signup forms" area:

Now chose the option for "Embedded Forms":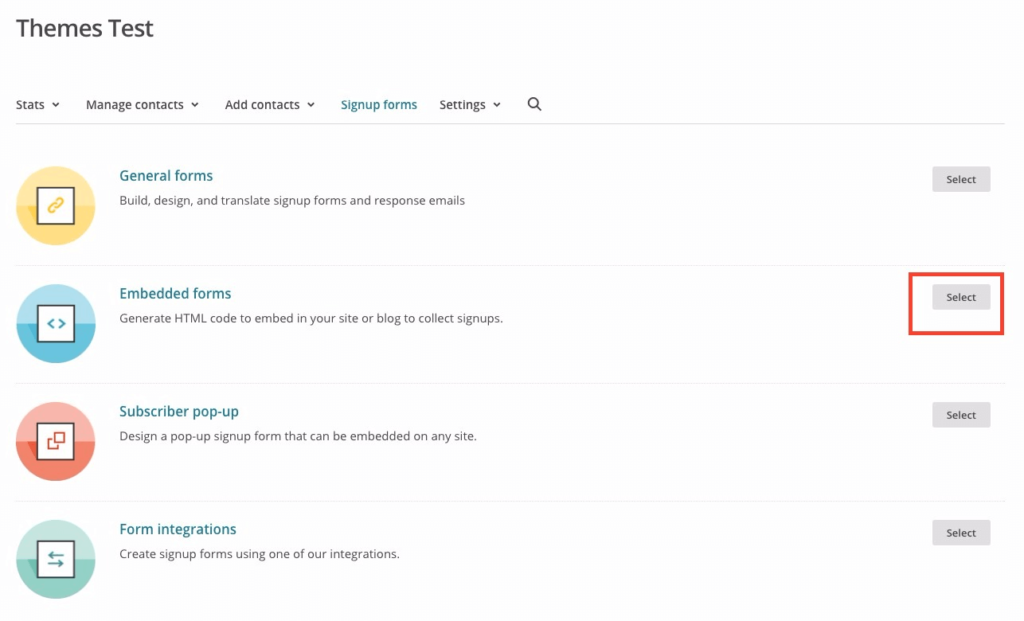 Step 4 – Form Settings
So we have navigated to the embed form area. You'll want to make sure you have enabled and disabled the right fields for the form. This is pretty simple, the only field you really need is email, so just enable the option "show only required fields" and now you'll have the embed code for your site, you can copy this to be used later: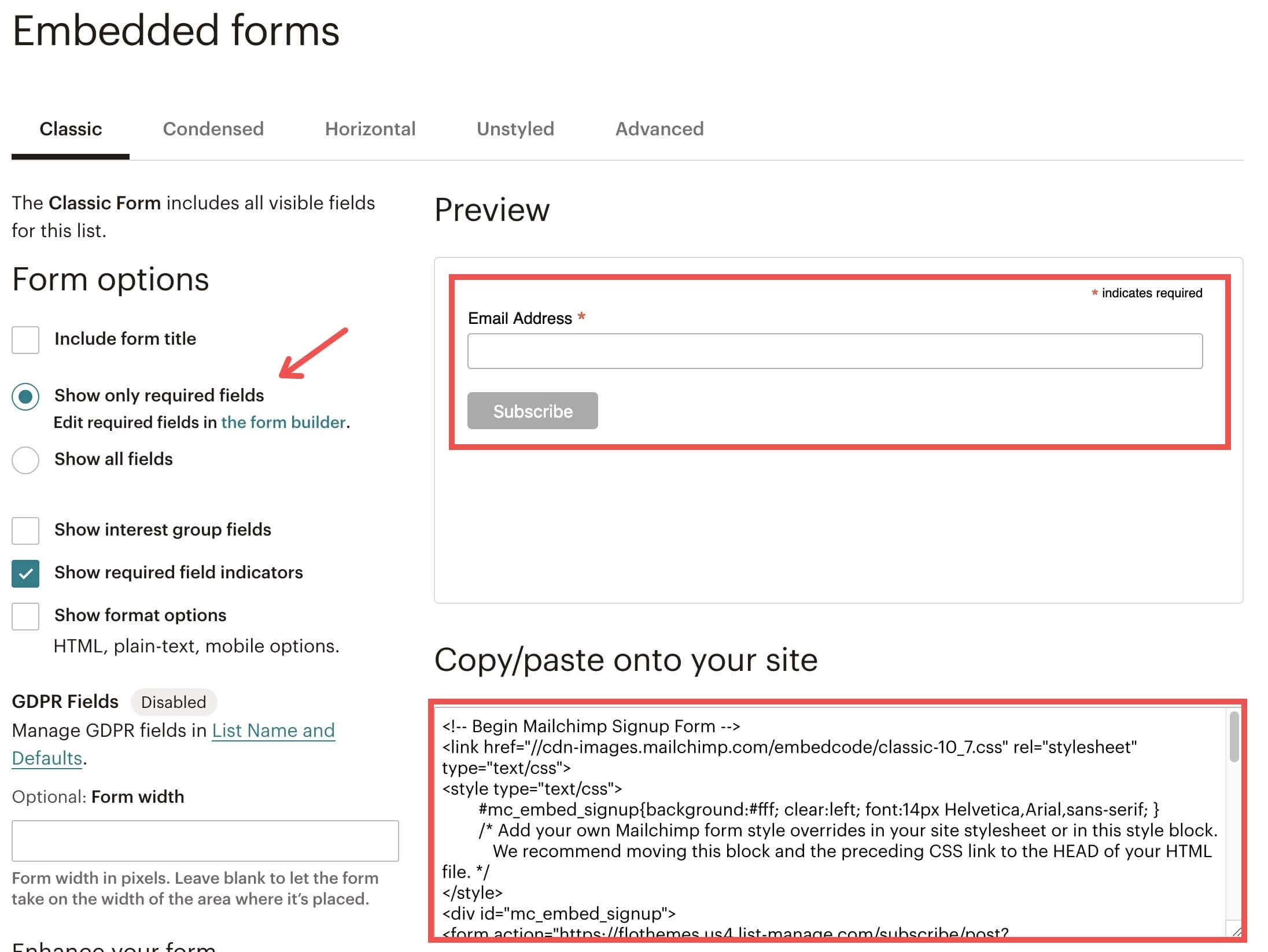 Step 5 – GDPR Options and Double Opt Ins
Before adding the code to your site, we highly recommend configuring a few further options. Because you are collecting the information for marketing purposes you should add a double opt in form.
With the double opt in form you will be asking the user to confirm that they are happy to sign up to your newsletter or email marketing list.
The double opt in email should also include a link to your terms and conditions and privacy policy. Both requirements for GDPR. You may want to speak to your lawyer for more details about this, or use a GDPR template builder to create these pages on your site.
To enable the double opt in, go to the form settings area on the right, and then choose "list name and defaults"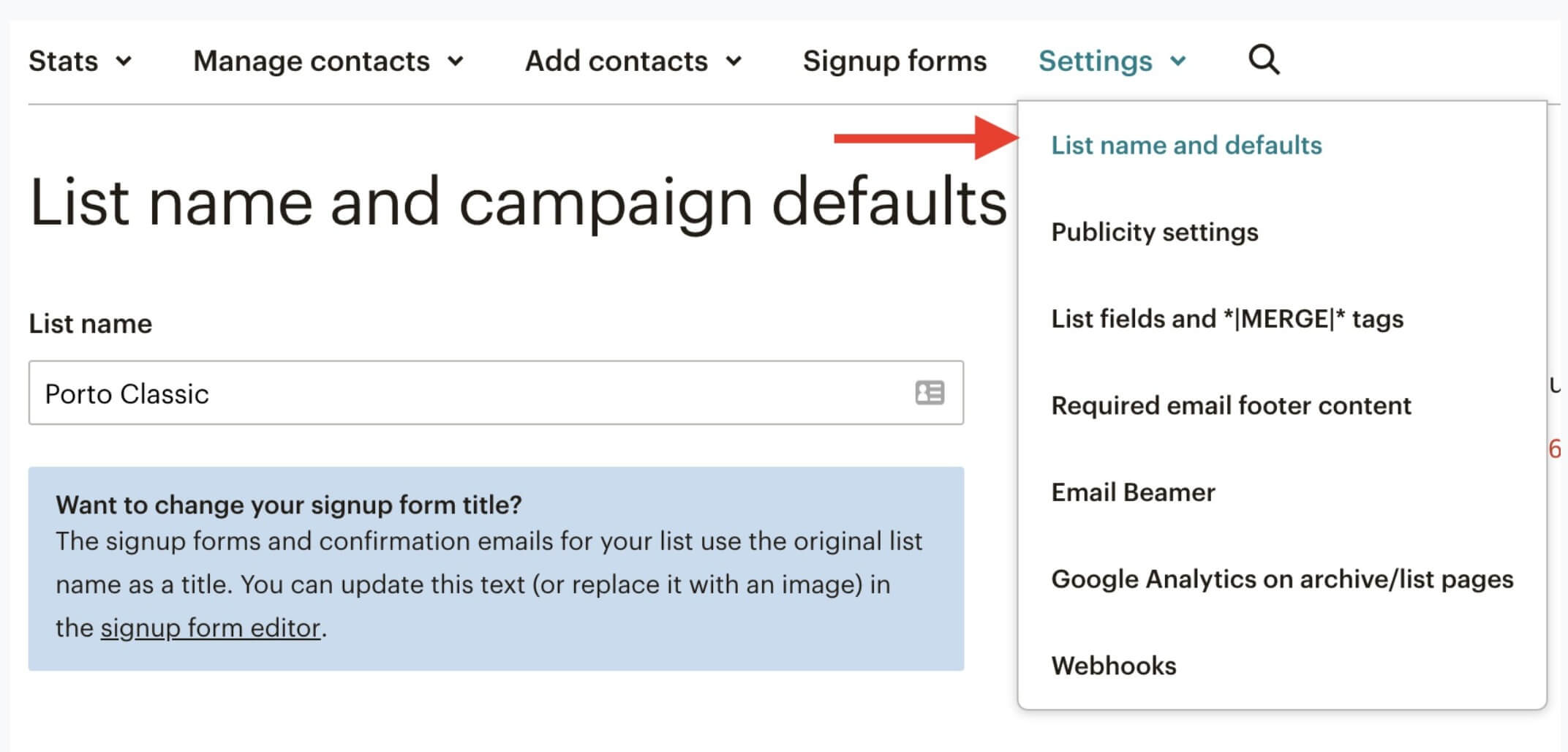 Now you can enable the option for double opt in, and additionally you can enable the captcha option, so you aren't getting spam sign ups to your site: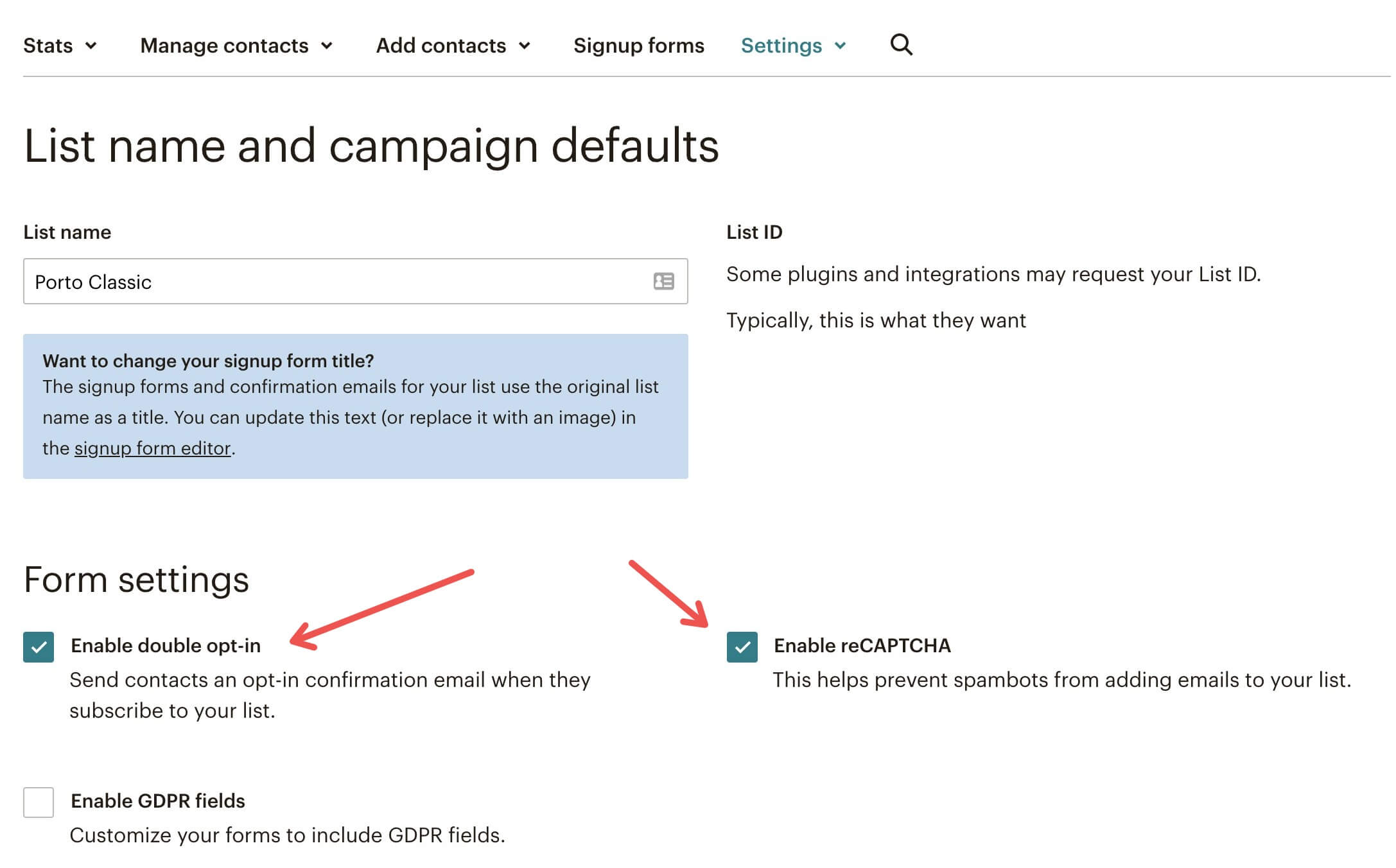 Learn more about double opt in options here.
Step 6 – Update Double Opt-in email
Now that the double opt-in is enabled, you'll want to update the email that is sent, because as default, it will not include links to your privacy policy (how you intend to use their email and how their data is handled) and terms and conditions.
To edit the double opt-in email, simply go to back to your lists, then choose your new (or existing) list, then click on sign up forms, and finally, choose the form builder option.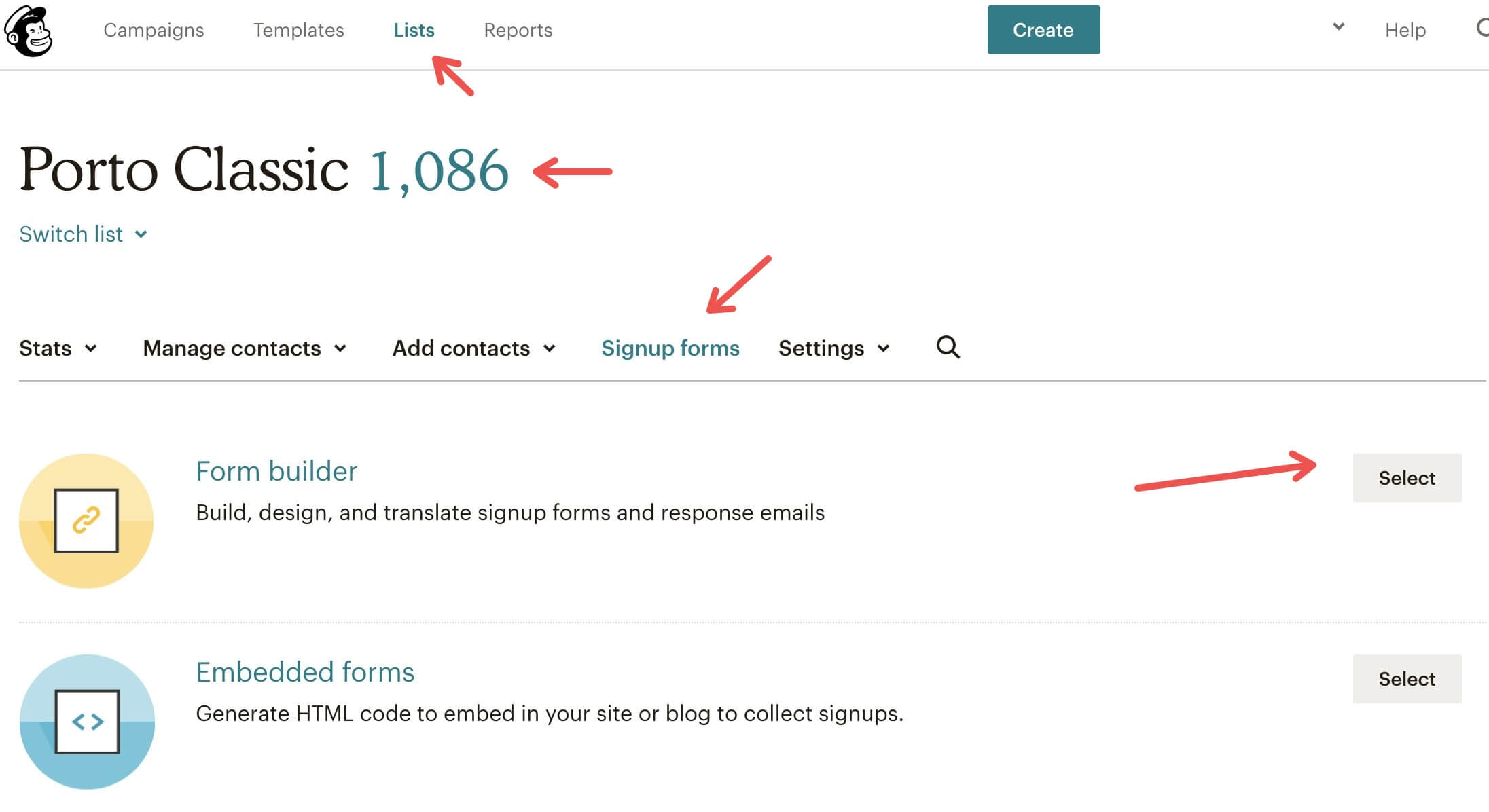 Now you will be able to choose the different form options and emails, from the drop down list choose "Opt-in confirmation email":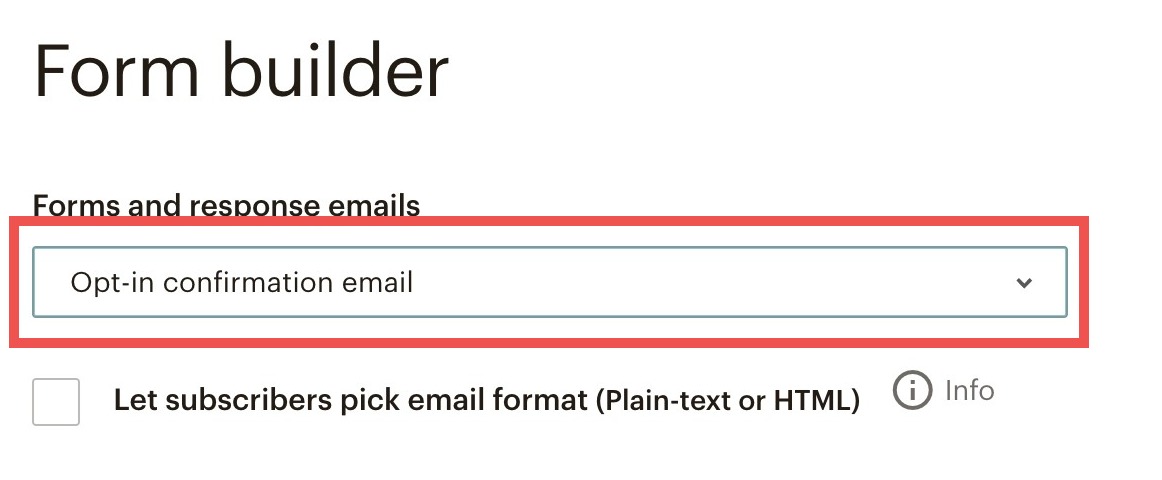 Then simply edit the form, and include the links to your privacy policy. If you want to use the following template you can:
"By confirming your subscription, you are agreeing to the terms and conditions within our privacy policy and you agree to the collection of your information for own personal marketing purposes."
If you need help with a privacy policy there are lots of free and paid resources online, you can get a sample privacy policy here.
Once finished, save and close the form.
Now you're ready to add the form to your site, which you can do in two ways.
Step 7 – Adding the form to your Flotheme Site
It's time to go back and get the code for your form, so go to lists > choose the list > choose sign up forms, and then select embedded forms, and then copy the code for your site: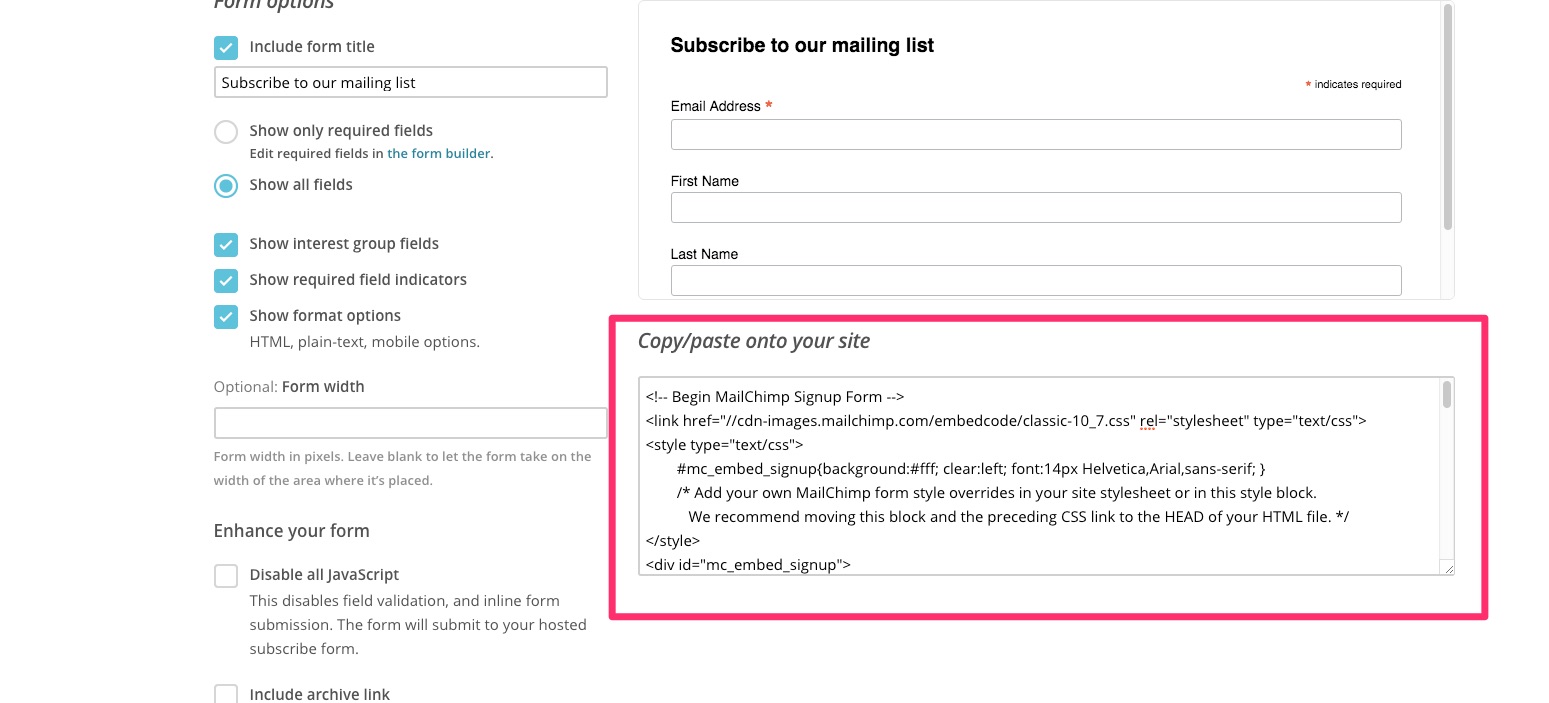 In the FlexThemes, the MailChimp may be integrated with the help of the Newsletter Block, it is first needed to add it to your page layout: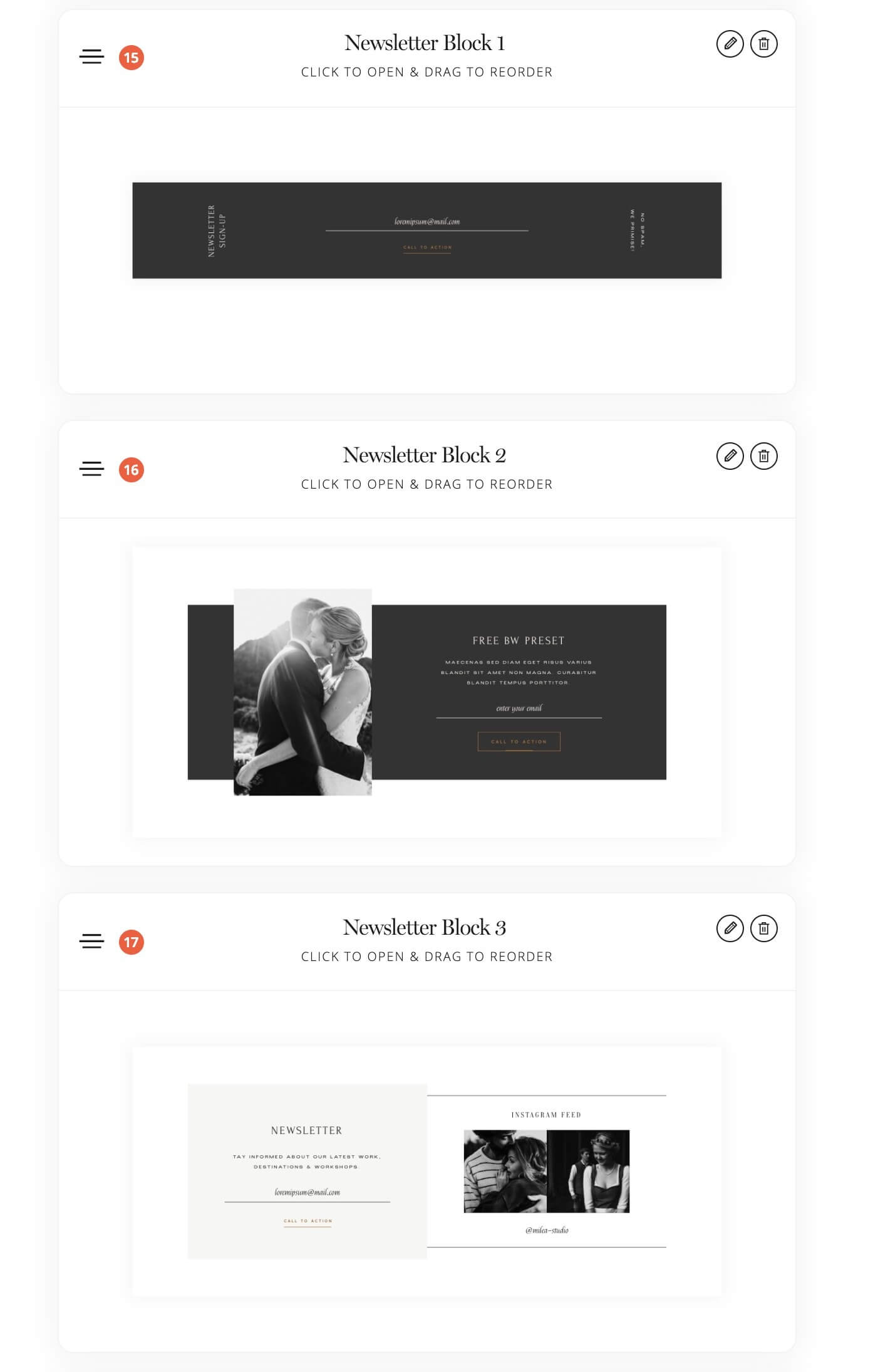 Then update any relevant fields and finally paste the code into the "newsletter Mailchimp" field: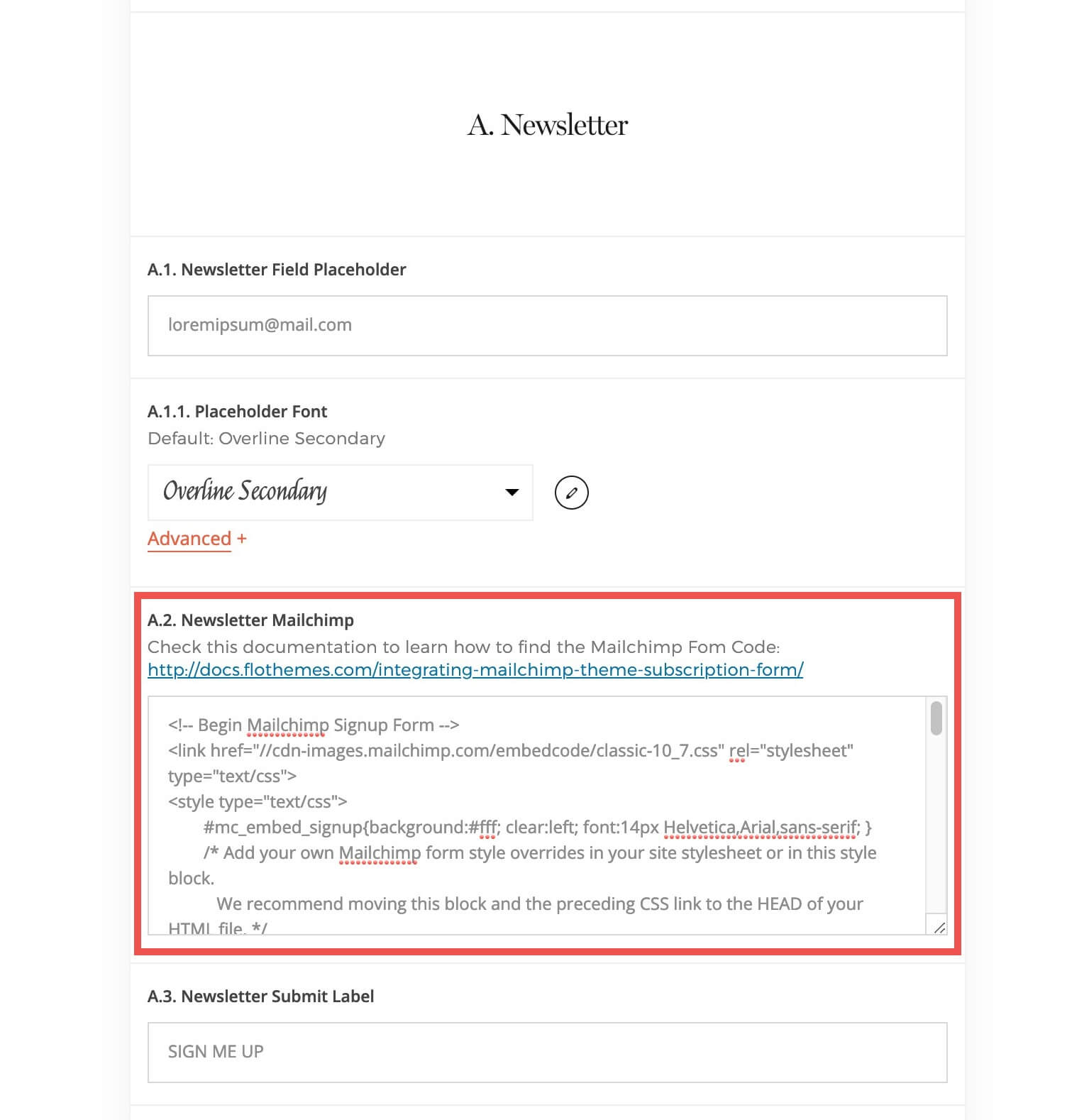 Save the page, and now you have a fully integrated newsletter collection form directly on your site.
Step 8 – Test Form
Make sure to test the form and make sure you are getting sign ups via Mailchimp. If all is working, and you have users added to your list, you're good to get started!
FloForms Mailchimp Integration
The integration allows you to Have your leads automatically added to your Mailchimp subscribers lists. Find more details about it here.