FloForms Plugin Settings
After you install and activate the plugin, you will have two new tabs available inside your WP site dashboard:
– Flo Forms – here you will find the list of all your forms that you create. Read the next articles on how to create and edit forms.
– FloForms Settings – in this tab you will find general settings related to all of your forms.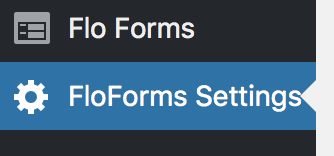 FloForms Settings tab includes 3 tabs – Settings, Test Email, Custom Fonts (premium feature available in Pro version).
01. Settings tab has the following list of options to enable/disable:
Email as plain text instead of HTML – by default, this option is disabled and shows your inquiries in a formatted table. If enabled the inquiries will be delivered as plain unformatted text.
Enable "Reply-to" email header – by default, this option is enabled and adds your customer's email in the emailed inquiry inside your Inbox. This allows you to reply to your customer directly from your Inbox.
Email sender name – The Name associated with the "from" email address. By default, it may appear as 'WordPress'. Set your name if necessary.
Enable email reminder when there are unread Entries – when enabled this will allow notifications to be sent to your email whenever there is an unread Entry through your forms.
Get reminders when unread Entries are older than – once you enable the unread Email reminder option, you will need to select when the reminder will be sent based on how old the Entries are.
Email address where reminders are sent – add the email where you want to receive unread Email reminder notifications
Enable Google Captcha – this is disabled by default. When you enable this option your forms will show Google Captcha for increased security.
Send emails via SMTP – this is a premium feature available in Pro version, which is recommended for better email delivery.
Import/Export Form Settings – allows a quick way to back up your settings. This is particularly helpful if you are on Pro version and have set up your Custom Fonts (premium feature in Pro Version)
02. Test Email tab has one field for your email address, which allows you to troubleshoot if your hosting email service is functioning ok. If you have not received a test email please refer to the article on how to troubleshoot FloForms issues.
03. Custom Fonts tab is a premium feature available inside the Pro version. Here you are able to add Google Fonts as well as upload custom fonts that you can then select from when editing your forms (read here how to stylize fonts in Pro version).